As a restaurant manager, you understand having a quick and efficient drive-thru experience is critical to making your guests happy and your business successful. You know that every second counts in your drive-thru. You also know that it's difficult to pinpoint exact spots where your speed of service can be improved or where security issues are happening. We know that drive-thru security cameras can help.
Our team of experts are here to help you see the entire picture, not just part of it – that's why integrating a Managed Video Solution with your current drive-thru security cameras is critical to the success of your business. Pairing your existing video surveillance with managed video software gives you visibility into every order, sale, and 3rd party delivery by vehicle making streamlining your restaurant's drive-thru experience that much easier. 
Ensuring that your drive-thru operations are running smoothly is more critical than ever. "Right now, our top focus in our stores is on growing top-line sales through drive-thru execution, with an emphasis on late-night operations," says Jon Aiello, market president with Flynn Restaurant Group. "A lot of companies took a natural sales lift during the pandemic just because there were more consumers, in general, going through drive-thrus, but to maintain it and to realize the true potential, you've got to have consistently outstanding operations." (QSR Magazine)
Dive even further into managed video and visually see the data that's pulled from your drive-thru's transactions to uncover any hidden internal theft with a drive-thru data integration. With a customized reporting tool, you're notified of exact moments when voids are entered or discounts with cash transactions are happening – helping you to make better decisions for your business before it negatively impacts your bottom line.
Here are the top ways that drive-thru security cameras can improve your restaurant's drive-thru:
1. Use Drive-Thru Cameras to Deter Theft
One of the most common types of theft at quick-service restaurants is "sweethearting", an employee giving a guest an unauthorized discount or even free product. The drive-thru line is a common spot where the sweethearting form of theft happens. Pointing your drive-thru security cameras at the payment window gives visibility into what's happening inside the payment window, as well as what's happening outside of the payment window. 
As a restaurant manager, you want to be aware of situations like this happening in your drive-thru line. Integrating a managed video solution with your existing security cameras, allows you to drill down on a specific vehicle's journey based on the time of the transaction to see where the discount or missed payment occurred. A managed video system connected to the restaurant's security cameras offers the ability to search the specific time and date needed for more review. 
When combined with data integration, such as your point of sale (POS) or drive-thru timer data, you can dive into more details of the transaction. For example, set an alert to notify you when a car leaves the payment window without a transaction occurring. This "report", viewable in a user-friendly dashboard, links vehicles with transactional data, allowing you to pinpoint theft from cars without transactions in your drive-thru. You can also search and view reports by location, time, receipt, vehicle journey duration, time at the menu board, or pick-up window. 
2. Enhance Security and Protection
The safety of your team members and your business is always top of mind, drive-thru security cameras give you eyes on everything that surrounds your drive-thru. Internal and external cameras are essential for maximum coverage in this area. According to Envysion Solutions Engineer, Orion Schalhamer, camera placement in these specific locations are critical for full visibility and safety:
Drive-Thru Rear:

In the drive-thru line, place a camera where there is a clear line of sight of the vehicle's license plate when the vehicle is at the window. The camera should be placed angled up high enough to allow for a license plate view when larger vehicles are behind the target vehicle. This is an especially important angle because some states do not require frontal license plates, while the majority of vehicles have an identifier mounted to the rear.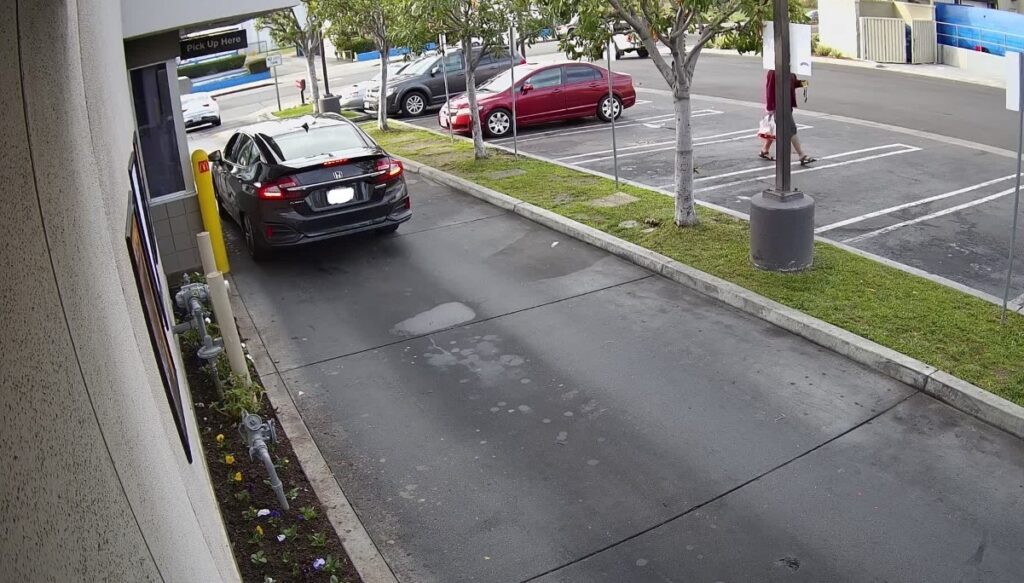 Drive-Thru Window Front:

As some drive-thru incidents occur during the transaction with the customer and employee, you'll want to place a camera in front and angled down onto the register – adding a level of accountability of service and record. When this camera is mounted at the correct height and angle, the view will capture product exchange, an image of the driver, and a profile of the vehicle.
Order Point and Merge Point:

These viewpoints are the most challenging to capture in the drive-thru line. It's important to ensure your cameras are effectively capturing the menu board and the merging point, as employees use this view to keep track of traffic flow and drive-thru procedures.
Drive-Thru Exit:

More accidents occur as vehicles depart from the restaurant, compared to vehicles approaching the restaurant. It's critical to place a camera that can view the exit area, while also extending the view to the vehicle returning to the public road.
For example, think about an altercation happening at the payment window, involving your employee and a customer. Integrating managed video software into your existing security cameras can capture the exact situation, with viewpoints of the customer and their vehicle to understand exactly what happened. With a POS integration, you can view the transaction data to tell the rest of the story.
With a managed software like Envysion, you can even save the video clip of the specific instance directly within the software to review the situation and document the incident alongside the video. All of the video clips can be saved, downloaded, and shared between respected groups or individuals, for example, upper management or the police.
3. Drive-Thru Cameras Maximize Efficiency
Drive-thru security cameras are a clear and insightful way to improve teamwork and business efficiency in your restaurant's drive-thru line. As a manager, you can review footage and see where improvement is needed. For example, is the line being held up due to employees in the kitchen not producing food at the expected rate? With cameras facing the drive-thru and back of the house, you're given more visibility into checking and monitoring the length of time guests spend at the menu board and the pickup window. With full visibility, you can see where the breakdown may have occurred and will have training opportunities presented in a factual way.
When drive-thru security cameras are paired with managed video software, you can be aware of incidents, whether it's altered transactions, cash loss, or a slow drive-thru line, and make insightful decisions that improve the guest experience and overall productivity. For instance, an operator noticed slowing drive-thru times after 10 pm. After watching the video, it was determined that 3rd party delivery drivers were sitting in line waiting for a second order to be picked up and not pulling to the side to wait. The operator made changes to the process and required the 3rd party driver to pull through the line again to allow other guests to get their orders in a timely manner. 
With data integration, improving your drive-thru performance is that much more attainable when it leverages the drive-thru timing system, where you're able to playback each vehicle's journey with the associated transaction data when anomalies occur. This report allows you to easily identify bottlenecks in the line, detect potential internal theft, and maximize drive-thru sales.
4. Improve Guest Experience
Lastly, having drive-thru security cameras will make your guests happier and more likely to come back. You want guests to have a positive experience and receive their order in a timely manner. Ensure your guests are leaving with that experience by using your drive-thru security cameras to their full potential.
As a manager, you'll have a clear picture of what's going on inside and outside of your restaurant with drive-thru security cameras and managed video software, and it's a great place to start maximizing resources and improving the quality of service. 
With data integration paired with a managed video solution, you'll be able to take transaction data and video footage to clearly spot areas where improvement is needed in order to keep your guests happy, prevent loss, and improve profits.
In your restaurant's drive-thru line, every second counts, and drive-thru security cameras hold the key to success for your business. Having eyes and data on all angles of your drive-thru is crucial in deterring theft or loss, ensuring business protection, and improving the guest drive-thru experience.
Let's make the most of your drive-thru security cameras, contact us for a quick demo.